Congratulations Week One Paleo Challenge Winner!!!
Congratulations to Elinor Kasza for successfully completing Week One of the Paleo Challenge!
You have won a gift card from FallOut CrossFit to Neiffer Triangle 4 Ranch, featuring grass-fed, all natural beef!
Reminder, your week two food journal is due by February 1st, if you wish to be eligible for the next drawing!
Looking for some Paleo Snack Ideas? Here you go!!!
Primal Trail Mix
Store-bought Trail Mix is typically loaded with a ton of sugar – this version, however, weeds out the bad stuff and leaves you with all the satisfying, delicious stuff!
Ingredients:
1 cup raw or roasted almonds
1 cup pumpkin seeds
½ cup sunflower seeds
1 cup blueberries
½ cup raisins
Method:
Combine all ingredients in an airtight container and store in a cool, dry place (it really can't get any easier!)
Better-Than-Store-Bought Apple Chips
You've got the savory down, now it's time for a little something sweet…
Ingredients:
2 cups unsweetened apple juice (if possible, juice your own).
1 cinnamon stick
2 large apples
Method:
In a large pot, combine apple juice and cinnamon stick and bring to a low boil. Meanwhile, remove top and bottom of apple and slice crosswise to make 1/8 thick "chips." With a slotted spatula, place apples into boiling juice and cook 4-5 minutes or until apples become near translucent. Use the spatula to remove apple slices from juice and place on a clean kitchen towel and pat dry. Arrange slices on a cake cooling rack placed on a cookie sheet (to catch drips!) and place racks on middle shelf in 250 degree oven. Bake 30-40 minutes until apple slices turn golden brown and are almost dry to the touch. Let cool and serve either as is, or with a light dusting of cinnamon.
Almost-Chocolate Carob Treat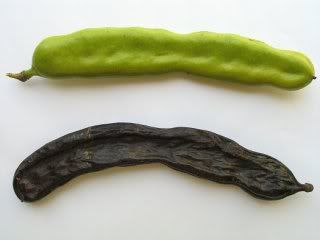 This recipe for carob desert comes courtesy of www.paleofood.com
Ingredients:
1 cup toasted unsweetened carob
1 ½ cups pecan meal
½ cup or less coconut oil
Method:
In a large bowl, mix all ingredients together. Spread in a baking tin lined with parchment paper. Will make a slightly softer version of fudge, but the recipe's creator swears this carob treat helped her kick what she calls a "significant" chocolate habit. Not that we have anything against chocolate!
Blueberry "Candies"
When a sugar craving hits, this blueberry candy ought to fit the bill:
Ingredients:
5 cups blueberries
4 tsp cinnamon
1 ½ tsp ginger
2 egg whites
1/4 cup raw honey (yes, we know that honey is pretty much pure sugar, but when it's spread out across 5 cups, it won't have too much of a glycemic impact)
1 tsp vanilla extract
In a large bowl, whisk egg whites until frothy. Add in honey and vanilla and stir until combined. With a slotted spoon, add blueberries to the egg mixture. Remove and roll in a small bowl filled with a mixture of cinnamon and ginger. Repeat until all blueberries are covered. Using the same slotted spoon, transfer the coated blueberries onto a plastic dehydrator tray. Dehydrate for 24 hours or until dry. After 8-12 hours, or when you see that one side is dry enough, turn them over to dry other side. Serve or store in an airtight container.
All-Natural Fruit Roll-Ups
Who says fruit roll-ups are just for kids? This stow and go snack is great for throwing in your purse or backpack for a quick pick-me-up!
Ingredients:
2 large apples
2 cups strawberries
1 tsp cinnamon
¼ cup purified water
Clean, core and dice apples. Add diced apples and strawberries in a blender and add a ¼ cup of purified water and cinnamon and process about 30 seconds or until smooth. Pour mixture on a teflex sheet (a Teflon-coated sheet commonly used to dehydrate delicate foods) and place in a plastic dehydrator. Dehydrate for 6-8 hours, remove teflex and flip fruit. Continue drying another 4-6 hours or until desired consistency is achieved. Use a pizza cutter to slice into snack-size pieces.
The last two recipes may be done in an oven if you don't have a food dehydrator. Times will vary so keep an eye on it, but they will likely take about as long. A good rule of thumb when using an oven to dehydrate is to set the temperature between 100 and 150 degrees Fahrenheit, and keep the oven slightly cracked for the duration of the dehydration.