Quitting Not An Option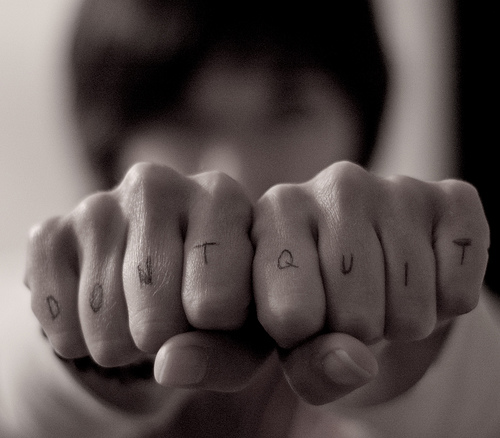 Quitting is not an option at FOCF. The workout is going to be hard, and it will be hard while you are doing it, and you'll want to quit, but you can not! Nothing ever worth attaining ever comes easy. It takes determination and commitment to complete these workouts and a mindset that must be attained before starting the workout. "I will finish!" You don't have to be first you just have to finish. Quitting is a representation of your attitude towards your goals. If you want to quit in the middle of a workout, ask yourself why? It's an easy enough answer, you're tired and probably sore. Guess what? So is the person next to you doing the workout, and the other million CrossFitters around the world completing their WODs everyday. You can & will finish your workout everytime, the real question when you want to quit should be, "How bad do you want to reach your goals?". Its especially rewarding when you reach the finish both mentally and physically. And that's the best part of it all. Quitting is NOT an option. Have you ever quit a WOD? What is it that keeps you going during an exceptionally difficult workout? Post your experiences and thoughts to comments.
WOD: Friday
Burpee Madness!!

On the min every min complete number of burpees. If you can not complete set in the min, you MUST finish them in the next min! But you can NOT move on to the next set you MUST wait until the next min

Minute:

10
20
5
11
2
18
6
15
4
18
17
3
13
9
12
14
16
7
19
1
Jackie Challenge FINALS are on Monday 2/28!
Check out your times from the Baseline