Paleo Challenge Starts TODAY!
"Meat, and vegetables, nuts and seeds, some fruit, little starch,  and no sugar!"
Alright it's time to get health everyone! You had your fun this weekend with Neolithic foods, now it's time to work you all into a Paleo Lifestyle. Remember this is not a diet, this is a lifestyle change for a healthier you. Diets are meant to be broken. We want you to change how you think about food and ultimately stick with it for life. But we wont make you quit cold turkey so we are going to ween you off the food that has you in it's grasp and into food that fuel your body for these workouts and lean you out to your optimal weight.
Week 1: No sugar – no means no. Look at the label if sugar, evaporated can juice, dextrose, sucrose, corn syrup etc is on the label then it's off limits. This includes artificial sweeteners & gum.
How does the scoring work? –
1 Point daily for each of the following:
*Each Day of Eating Strict based on weeks rules and keeping a journal
Crossfitting @ least 2 days per week (use your free Saturdays)
Sleeping 8+ hours per Night
Before and After Picture (must be done to qualify for prize)

Against white wall in swim suit

5 bonus points for recommended reading
Alcohol is a -2 points/day
Each Saturday you will post your points  in the comments section of the recipe post.
If you do not post your points, you will get a ZERO!
If weight loss is a goal for you – remember your Carb Intake levels: Men – <50gm/day Women – <30gm/day
Recommended Reading:
Helpful Links:
Drink water, water and more water! Your body is going to be going through a week or so of DETOXING all the processed, junky, nasty foods that we eat! Admit it, we eat a lot of junk that controls our moods, attitudes, performance and ambition!
You will most likely experience  strong cravings for these foods , crazy mood swings and all sorts of types of body changes that might try to talk you into quitting the challenge, warn friend and family of what you are doing and why! Stick to it, you will get over that hump after a week or so and feel like a champion! This is why we are taking 4 weeks to get to Paleo.
Download your score sheet here
Here is a recipe to get you started!
Ingredients:
2 chicken cutlets
4 eggs
4 cups raw, unsalted nuts of your choice
1/2 cup finely chopped herbs of your choice
1/4 – 1/2 cup cooking oil of your choice (not vegetable oil) (olive oil best)
1 avocado, sliced
Salt & pepper to taste
Directions:
Finely grind nuts in food processor, but don't grind them so long that they turn into paste. Combine the ground nuts with the chopped herbs. Add salt and pepper to taste.
Lightly beat raw eggs in large bowl.  Dip chicken cutlets in the egg wash and coat both sides with the nut mixture.
Heat oil in skillet over medium heat.  Place chicken in skillet and cook until browned on both sides and cooked through, about five minutes a side.
Top with avocado slices before serving.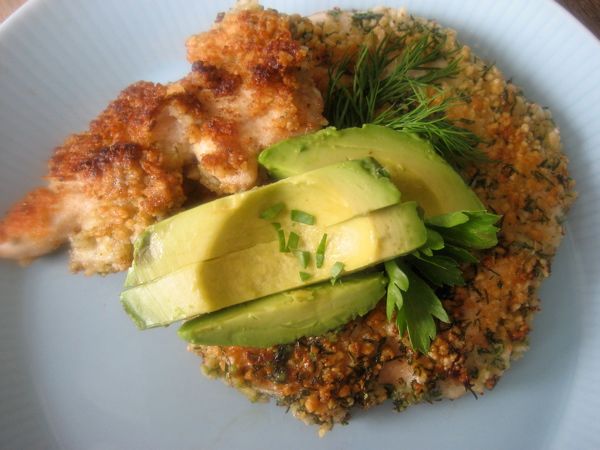 Variations:
If you don't have a food processor you can get Almond Meal at Yokes, this would work good too
Choose different meats, pork would be an excellent option as well.
Mix up your herbs, get creative – it will all taste good
GOOD LUCK EVERYONE!