Badger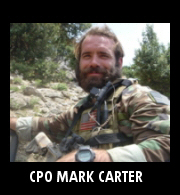 In honor of Navy Chief Petty Officer Mark Carter, 27, of Virginia Beach, VA who was killed in Iraq 11 December 2007.
Excellent effort shelled out by those who were able to make it out this week for Hero WOD week to honor our service men & women who have given the ultimate sacrifice. These WOD are the toughest and it's for a reason. Thanks for the dedication this week. Now rest up this weekend and be ready for next week!
Paleo Seminar is Tomorrow @ 9am!
WOD: Badger
3 rounds for time

30 Squat Cleans
30 Pullups
800m Run

Level III: 95/75
Level II: 65/45
Level I: <45/35